Welcome to DynaMo!
At DNRF Center of Excellence for Dynamic Molecular Interactions (DynaMo) we address basic biological questions using the model plant Arabidopsis thaliana and its primary defense compounds, glucosinolates, as a powerful model system. The insights gained have potential societal benefits by opening up for unforeseen opportunities in e.g. synthetic biology, medicine and sustainable agriculture.
Royal Danish Academy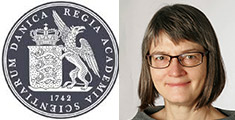 Head of Center Barbara Ann Halkier is appointed new member of the Royal Danish Academy of Sciences and Letters. Read more ...
The Young Academy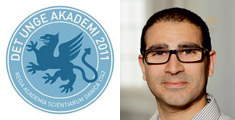 DynaMo researcher Hussam Nour-Eldin new member of the The Royal Danish Academy's Young Academy. Read more ...
Innovation Award 2013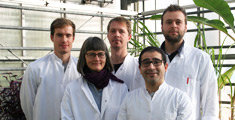 Five researchers from DynaMo win University of Copenhagen Innovation Award 2013 for a new biotechnological method for removing unwanted substances from edible parts of plants. Read more ...
Best Danish Research Result 2012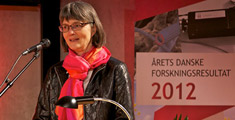 Head of Center Barbara Halkier at the award ceremony 5 December 2012 when DynaMo research won videnskab.dk's prize for "Best Danish Research Result 2012". Read more ...