DynaMo MS-Analytics Facility
At the DynaMo Center two state-of-the-art LC-MS instruments are available: a high performance Triple Quadrupole Mass Spectrometer for targeted analysis of small metabolites and a Q-TOF Mass Spectrometer for untargeted metabolomics approaches. Our analytical facility enables us to analyze samples both with high sensitivity and high accuracy with a total sample throughput of >40000 samples per year. The instruments are available for researchers at DynaMo and the Department for Plant and Environmental Sciences and for research collaborators.
Instrumentation
1. Bruker EVOQ-Elite Triple Quadrupole coupled with a Bruker Advance UHPLC with OLE
Our state-of-the-art Triple Quadrupole (TQ) instrument allows for accurate quantification in a large dynamic range with detection limits for many compounds in the low nmolar range. Multiple Reaction Monitoring (MRM) facilitates detection and quantification of a large numbers of different compounds within short LC runs (4-10min) with high precision. We have currently developed a range of methods allowing for quantification of a variety of compounds (see list to the righ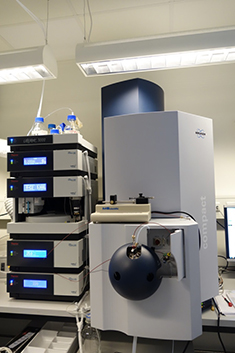 t for details). In addition we are establishing Selected Reaction Monitoring (SRM) methods for targeted proteomics in different organisms.
2. Bruker Compact micrOTOF-Q coupled with a Dionex Ultimate 3000RS UHPLC
Our Time-of-flight instrument allows for determination of the accurate mass and facilitates identification of new compounds. The instrument is used for screening and metabolomics analysis of plant and microbial extracts. The Q-TOF is coupled to a high performance UHPLC providing separation of analytes before they enter the mass spectrometer.
Publications
with data acquired on instruments of the DynaMo MS-Analytics Facility:
2017
Jæger D, Ndi CP, Crocoll C, Simpson BS, Khakimov B, Guzman-Genuino RM, Hayball JD, Xing X, Bulone V, Weinstein P, Møller BL, Semple SJ (2017) Isolation and Structural Characterization of Echinocystic Acid Triterpenoid Saponins from the Australian Medicinal and Food Plant Acacia ligulata. Journal of natural products. [In press]
De Jesus MPRH, Nielsen AZ, Mellor SB, Burow M, Matthes A, Robinson C, Jensen PE (2017) Tat proteins as novel thylakoid membrane anchors to organize a biosynthetic pathway in chloroplasts and increase product yield 4-fold. Metabolic engineering. [In press]
Ionescu IA, López-Ortega G, Burow M, Bayo-Canha A, Junge A, Gericke O, Møller BL, Sánchez-Pérez R (2017) Transcriptome and Metabolite Changes during Hydrogen Cyanamide-Induced Floral Bud Break in Sweet Cherry. Front Plant Sci 8: 1233.
Jæger D, Simpson BS, Ndi CP, Jäger AK, Crocoll C, Møller BL, Weinstein P, Semple SJ (2017) Biological activity and LC-MS/MS profiling of extracts from the Australian medicinal plant Acacia ligulata (Fabaceae). Nat Prod Res 1–6.
Barba-Espín G, Glied S, Crocoll C, Dzhanfezova T, Joernsgaard B, Okkels F, Lütken H, Müller R (2017) Foliar-applied ethephon enhances the content of anthocyanin of black carrot roots (Daucus carota ssp. sativus var. atrorubens Alef.). BMC Plant Biol 17: 70.
Jørgensen ME, Xu D, Crocoll C, Ramírez D, Motawia MS, Olsen CE, Nour-Eldin HH, Halkier BA (2017) Origin and evolution of transporter substrate specificity within the NPF family. elife 6.
Payne RME, Xu D, Foureau E, Teto Carqueijeiro MIS, Oudin A, Bernonville TD de, Novak V, Burow M, Olsen C-E, Jones DM, Tatsis EC, Pendle A, Halkier BA, Geu-Flores F, Courdavault V, Nour-Eldin HH, O'Connor SE (2017) An NPF transporter exports a central monoterpene indole alkaloid intermediate from the vacuole. Nature Plants 3: 16208.
2016
Vik D, Crocoll C, Andersen TG, Burow M, Halkier BA (2016) CB5C affects the glucosinolate profile in Arabidopsis thaliana. Plant Signal Behav 11: e1160189.
Mellor SB, Nielsen AZ, Burow M, Motawia MS, Jakubauskas D, Møller BL, Jensen PE (2016)Fusion of ferredoxin and cytochrome P450 enables direct light-driven biosynthesis. ACS Chem Biol 11: 1862–1869.
Crocoll C, Halkier BA, Burow M (2016) Analysis and quantification of glucosinolates. In Stacey G, Birchler J, Ecker J, Martin CR, Stitt M, Zhou J-M (eds.), Current Protocols in Plant Biology pp 385–409. John Wiley & Sons, Inc., Hoboken, NJ, USA.
Francisco M, Joseph B, Caligagan H, Li B, Corwin JA, Lin C, Kerwin R, Burow M, Kliebenstein DJ (2016) The Defense Metabolite, Allyl Glucosinolate, Modulates Arabidopsis thaliana Biomass Dependent upon the Endogenous Glucosinolate Pathway. Front Plant Sci 7: 774.
Tal I, Zhang Y, Jørgensen ME, Pisanty O, Barbosa ICR, Zourelidou M, Regnault T, Crocoll C, Olsen CE, Weinstain R, Schwechheimer C, Halkier BA, Nour-Eldin HH, Estelle M, Shani E (2016) The Arabidopsis NPF3 protein is a GA transporter. Nat Commun 7: 11486.
Wlodarczyk A, Gnanasekaran T, Nielsen AZ, Zulu NN, Mellor SB, Luckner M, Thøfner JFB, Olsen CE, Mottawie MS, Burow M, et al. (2016) Metabolic engineering of light-driven cytochrome P450 dependent pathways into Synechocystis sp. PCC 6803. Metab Eng 33: 1–11.
Mirza N, Crocoll C, Erik Olsen C, Ann Halkier B (2016) Engineering of methionine chain elongation part of glucoraphanin pathway in E. coli. Metab Eng 35: 31–37.
Crocoll C, Mirza N, Reichelt M, Gershenzon J, Halkier BA (2016) Optimization of engineered production of the glucoraphanin precursor dihomomethionine in Nicotiana benthamiana. Frontiers in bioengineering and biotechnology 4: 14.
2015
Jensen LM, Kliebenstein DJ, Burow M (2015) Investigation of the multifunctional gene AOP3 expands the regulatory network fine-tuning glucosinolate production in Arabidopsis. Front Plant Sci 6: 762.
Jensen LM, Jepsen HSK, Halkier BA, Kliebenstein DJ, Burow M (2015) Natural variation in cross-talk between glucosinolates and onset of flowering in Arabidopsis. Front Plant Sci 6: 697.