Application
 Your application must include:
Motivation letter
Preferred choise of research topic
CV
Grade transscript
Please email your application to the supervisor indicated under each project.
We aim at giving you a reply within two weeks.
Exchange and guest students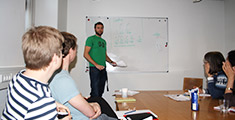 If you are from abroad and are looking for a Master Exchange Programme or want to study at DynaMo as a guest student, see the International Student Office for more information.