Do your student project at DynaMo!
We are seeking highly motivated and engaged students to do their thesis work within cellular and organismal biology at DynaMo Center. Both Danish and foreign students are encouraged to apply.
At DynaMo Center we offer you an active and international study environment including weekly group meetings and access to our international seminar series with invited speakers leading in their field. In return we expect that you display your full potential through strong drive and discipline throughout the research project. You will be an integrated part of the center.
Below can find some available projects, but you are also welcome to present us your own ideas. The proposed projects are made by center researchers and are issues and challenges to which we are looking for answers and for students to help finding them.
We welcome applications for MSc projects, BSc projects and from interns from abroad.
Student projects at DynaMo Center
We are currently looking for candidates to the following projects:
Application of advanced synthetic biology to build an efficient yeast cell factory producing health-promoting glucosinolates
Supervisor: Barbara Ann Halkier, William Thomas Wajn
Beneficial microbiome(s) towards the future of sustainable agriculture
Supervisor: Barbara Ann Halkier, Deyang Xu
Looking for novel Sieve Element specific genes using bioimaging
Supervisor: Alexander Schulz, Niels Christian Sanden
Transcription factors - what regulates the regulators?
Supervisor: Meike Burow
Metabolite sensing – how do plants monitor their metabolism?
Supervisor: Meike Burow
Transporter engineering to prevent toxins in seeds using Crispr technology
Supervisor: Barbara Ann Halkier, Deyang Xu
CRISPR/Cas9 technology to develop plant-based protein for human consumption
Supervisor: Barbara Ann Halkier, Deyang Xu
Decoding of the chemical language of plants
Supervisor: Barbara Ann Halkier, Deyang Xu
Understanding the transport mechanism of the NPF family
Supervisor: Hussam Hassan Nour-Eldin
Phytohormone transport in plants
Supervisor: Hussam Hassan Nour-Eldin
Synthetic biology to engineer the production of health-promoting bioactives in microbial cell factories in industrial biotechnology
Supervisor: Barbara Ann Halkier, co-supervisors (dependent on project): PhD student Michal Poborsky (michal@plen.ku.dk), William Wajn (wtw@plen.ku.dk) 
Transport Engineering in Microalgae
Supervisor: Hussam Hassan Nour-Eldin
Application
 Your application must include:
Motivation letter
Preferred choise of research topic
CV
Grade transscript
Please email your application to the supervisor indicated under each project.
We aim at giving you a reply within two weeks.
Exchange and guest students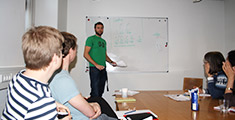 If you are from abroad and are looking for a Master Exchange Programme or want to study at DynaMo as a guest student, see the International Student Office for more information.