17 April 2020
Professor Barbara Ann Halkier writes chapter in book gift to H.M. the Queen
On the occasion of H.M. Queen Margrethe's 80th birthday, the Royal Danish Academy of Sciences and Letters has published a special book on topic 'the beauty of science' as a gift to her majesty. The book provides insights into the fascination of science by 16 top scientists. Head of DynaMo Center Professor Barbara Ann Halkier was invited to contribute to the book and has written a chapter entitled 'Plan(t)s for the Future' (see introduction below).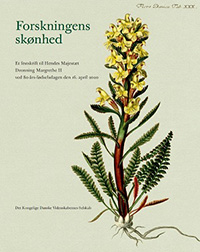 Plan(t)s for the Future
Plants are important for human beings. Plants contribute food, medicine, building and clothing materials, and the forests function as major carbon storage on the planet. Thus, plants are key players in providing solutions to major future challenges.
In this chapter, I will share my deep fascination for plants. At the same time – from my position as plant scientist – I will inform about major scientific breakthroughs at the forefront of plant research with examples from my own and other scientists' research. The gained knowledge has provided us with tools to solve one of the biggest challenges that humanity is facing – namely to feed the growing world population on a limited land area.
Press release on Sciencereport.dk (In Danish)