12 June 2015
Welcome to Zeinu Mussa Belew – new PhD student at DynaMo Center
Welcome
Zeinu Mussa Belew is a new PhD student at the DynaMo Center. Zeinu is hired to be part of the newly launched project TET4BIOTECH where he will screen for and characterize exporters of valuable plant compounds with the aim of improving biotechnological production of compounds in yeast.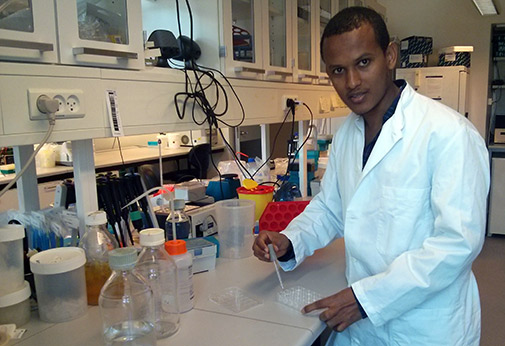 Originally from Ethiopia, Zeinu obtained his BSc degree in Horticulture from Jimma University, Ethiopia, with distinction. In 2010, he moved to the Netherlands to continue his studies and in 2012 he obtained an MSc degree in Plant Sciences specializing in plant pathology and entomology from Wageningen University. Upon graduation Zeinu moved to Denmark to obtain yet another MSc degree and in 2014 he graduated from the University of Copenhagen's MSc program in Agriculture.
Focus on molecules
Zeinu's interest in molecular biology started during his master thesis project at Wageningen University where he employed proteomics and biochemical techniques to study the interaction between a tomato resistance gene product and a fungal pathogen. At the University of Copenhagen his MSc thesis focused on plant innate immunity induced by bacterial microbe-associated molecular patterns. Zeinu is therefore well equipped to meet the challenges his PhD project will bring.
Zeinu's PhD supervisor is Associate Professor Hussam H. Nour-Eldin from DynaMo Center.
Welcome Zeinu!