5 March 2019
Congratulations Annette!
In front of colleagues, family and friends Annette Petersen succesfully defended her PhD thesis.
The aim of Annettes PhD project is to focus on engineering the glucosinolate pathway into microbial hosts; her thesis is entitled 'Glucosinolate Production in Heterologous Hosts. Choosing the right chassis'.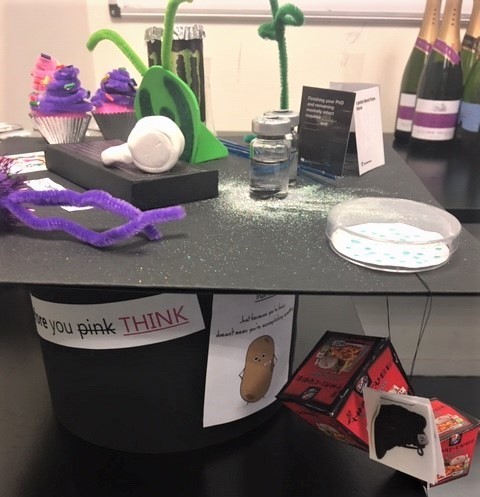 The traditional DynaMo PhD hat prepared for Annette after her defence

Heterologous hosts, defence and development
Annette obtained a BSc and an MSc in Biology-Biotechnology from the University of Copenhagen. She conducted her MSc thesis at DynaMo under the supervision of Associate Professor Hussam Nour-Eldin in 2015. In January 2016, she commenced as a PhD student at Dynamo.
Annettes PhD thesis is a collection of manuschrips dealing with the testing of three different host systems for their ability to produce glucosinolates. The native producer Arabidopsis thaliana, and two microbial hosts Escherichia coli and Chlamydomonas reinhardtii. Since some glucosinolates are derived from chain-elongated amino acids and both chain elongation and core structure pathways were used in constructing heterologous production hosts. Previously reported problems of by-product formation when expressing the chain elongation pathway in E. coli was tackled by construct and protein engineering approaches.
The PhD committee was excited about Annettes work and unanimously awarded her the PhD degree with great pleasure. Annette will continue her career with a job as consultant in Herax Consulting, Denmark.
Congratulations Annette!