28 September 2018
Congratulations Christa!
MSc Grade
DynaMo master student Christa Kanstrup successfully defends her MSc thesis in Biology-Biotechnology
On Friday 28 September, DynaMo master student Christa Kanstrup successfully defended her MSc thesis in Biology-Biotechnology in front of a full lecture hall with family, friends and colleagues. The title of Christa's thesis is 'Gain-of-Function Transporters - Development of a screening system for high-throughput identification and Application in transport engineering of specialized metabolites'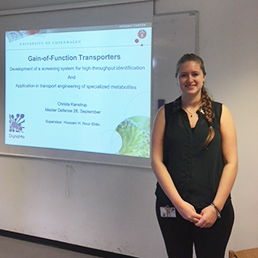 In her MSc project Christa focused on biochemical characterization of an identified gain-of-function glucosinolate transporter, developing high-throughput screening methods for identifying and understanding the molecular basis of gain-of-function mutations in GTR transporters and lastly on implementing a transport engineering approach using hyperactive glucosinolate transporter mutants in Arabidopsis and monitoring the effect on seed accumulation. 
Plants produce an extensive amount of valuable specialized metabolites that have many applications for humans as pharmaceuticals, flavoring and coloring. The project of Christa took an important step towards developing approaches for increasing the amount of specialized metabolites in plants through transport engineering.
Congratulations Christa!
Christas MSc defense