28 January 2020
Congratulations Ling!
MSC Graduation
DynaMo master student Ling Chen defends her MSc thesis in Biology-Biotechnology
On Tuesday 28 January, DynaMo master student Ling Chen successfully defended her MSc thesis in Biology-Biotechnology in front of a full lecture hall with friends and colleagues.
The title of Ling's thesis is ' Optimization of glucosinolate production in Saccharomyces cerevisiae'.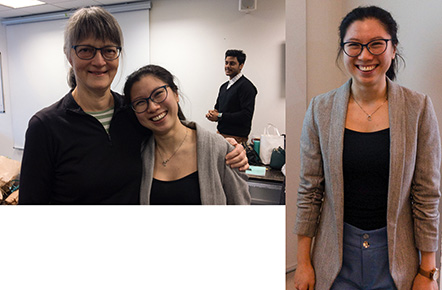 Ling Chen with a big smile before the examination and afterwards with her supervisor Prof Barbara Ann Halkier.
In her MSc project, Ling focused on optimization of glucotropaeolin production with the use of several strategies to alleviate bottlenecks in glucotropaeolin production (in yeast). Fusing the last two enzymes (UGT74B1 and SOT16) in the pathway together was found to increase the desulfoglucotropaeolin level, while the glucotropaeolin level remained unchanged. In addition, a 3-fold increase of amino acid concentration in the medium indicated a positive impact on the desulfoglucotropaeolin level. The optimization strategies did not improve glucotropaeolin, but desulfoglucotropaeolin production. Future studies will focus on further optimization of this metabolic bottleneck in glucotropaeolin production in yeast.
Congratulations!