30 June 2017
Congratulations Marie-Louise!
MSc degree
Yesterday, DynaMo master student Marie-Louise Thomsen successfully defended her MSc thesis in Biology-Biotechnology in front of a full auditorium.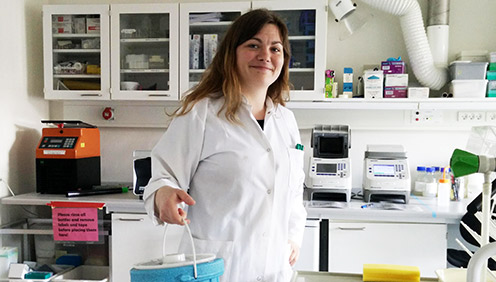 DynaMo master student Marie-Louise Thomsen obtained the MSc degree in Biology-Biotechnology be defending her MSc thesis entitled 'Natural variation in root growth response to 3ohp glucosinolate: utilizing natural variation for identification of functional targets of 3ohp'.
In her MSc project, Marie-Louise exploited natural variation in the model plant Arabidopsis thaliana to provide evidence that the target of one specific glucosinolate defense compound, the so called 3ohp, is conserved across the plant kingdom.
Marie obtained the BSc degree in Biology-Biotechnology from the University of Copenhagen in 2014; also this project was carried out at the DynaMo Center.
And yesterday, Marie-Louise completed her MSc degree with an enthusiastic and convincing oral presentaion of her MSc project in front of family, freinds and colleagues.
Congratulations Marie-Louise!