18 August 2017
Congratulations Sophie!
PhD defence
Today, DynaMo PhD scholar Sopie Lambertz successfully defended her PhD thesis and obtained the PhD degree.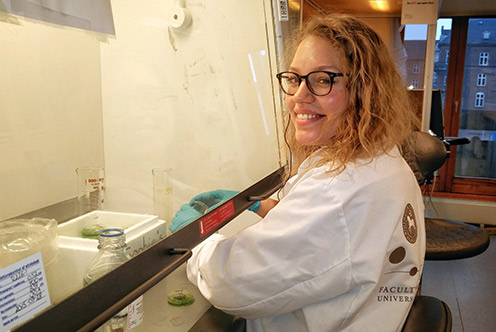 In front of colleagues, family and friends Sophie Lambertz succesfully defended her PhD thesis. The aim of Sophie's PhD project is to shed light on the role of jasmonate transport in plant defense and development; her thesis is entitled 'Identification and characterization of jasmonate transporters: The role of jasmonate efflux in defense and development'.
Plant hormones, defence and development
Sophie obtained a BSc in Biology from the Julius-Maximilians-University Würzburg in 2011. During 2012, she visited DynaMo as an Erasmus intern for 4 months, and in 2013 she came back to write her master thesis at DynaMo. Sophie obtained an MSc in Biology from the the Julius-Maximilians-University Würzburg in 2014 and later that year, she commenced as a PhD student at DynaMo.
Sophie's PhD thesis is a collection of manuscripts dealing with the role of jasmonate transport in defense and development of Arabidopsis thaliana. Sophie identified jasmonate efflux proteins (JEFFs) in a functional screen of the Nitate Peptide transporter Family (NPF) in Xenopus laevis oocytes and investigated how the JEFFs are involved in jasmonate efflux from the site of synthesis to distal cells or organs of plants; she tested their contribution to defense against herbivores and fungi and carried out wounding assays. Sophie further showed that jasmonate efflux is involved in root growth and responses as well as regulation of leave growth.
The PhD committee was excited about Sophie's work and unanimously awarded her the PhD degree with great pleasure.
Congratulations Sophie!