23 August 2016
Dorottya Veres - new PhD student in Transport Processes
Welcome
On 1 August 2016 Dorottya Veres commenced as a PhD student at DynaMo Center. She is looking forward to getting further insights into the world of transportomics.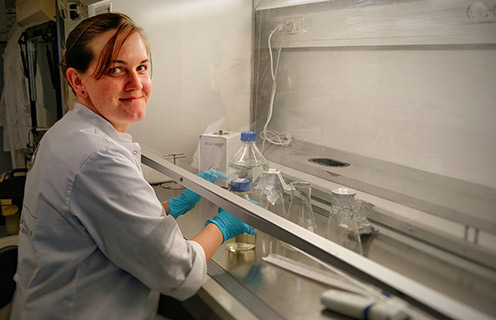 Dorottya Veres holds a BSc in Biochemistry and an MSc in Molecular Biology from University of Babeș-Bolyai in Romania. Thus, her education covered chemistry, biochemistry, molecular biology and biotechnology.
From intern to PhD
Dora's bachelor thesis was on the optimization of expression of a intracellular loop from an Arabidopsis metal transporter in E.coli. During the spring of 2015, she spend three months as an Erasmus+ intern at DynaMo Center before returning to Romania to defend her Master thesis on salt tolerance in Arabidopsis.
On 1 August 2016, Dora started as a PhD student at DynaMo. Here she is part of the STS (Synthesis-Transport-Storage) subgroup and will work on identification of transport proteins involved in the mobilization of glucosinolates.
Fascinating transport processes
Dora explains her reason for choosing a PhD project at DynaMo:
"During my internship at DynaMo, I found that glucosinolate transport fascinates me because it gives an explanation for how plant cells organize their processes, especially their defense, in order to function and survive as one organism. I am looking forward to expanding my expertise in this field."
Welcome Dora!