02 November 2018
Line Lykke Hansen - new PhD student at DynaMo
New Position
Line Lykke Hansen commenced a PhD project on identification and characterization of the glucosinolate transporter complement in the DynaMo Center on 1 November 2018
The new DynaMo PhD student Line Lykke Hansen has already been connected to the center for 1 year as she has been employed as research assistant working with glucosinolate transporters.
MSc project on plant membrane trafficking in pathogen resistance
Line Lykke Hansen graduated from the MSc in Agriculture and Plant Science at the University of Copenhagen in September 2017.
In her MSc project, Line investigated the role of Rab5-like GTPases in the formation of plant multi-vesicular bodies, which are speculated to be involved in the formation of the two specialized defense structures against filamentous pathogens, papilla and encasement.
On 1 November 2018 Line began a 3-year PhD position at the DynaMo Center.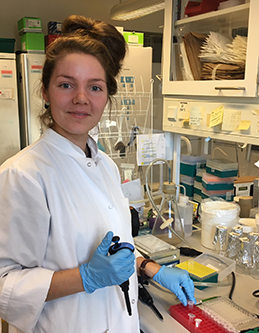 Identification and characterization of glucosinolate transporter complement
As a PhD student Line aims at identifying and characterizing exporter proteins of the glucosinolate defense compounds in the model plant Arabidopsis thaliana. Translocation of glucosinolate from source to sink is important for e.g. defense response and involves the crossing of multiple membrane barriers. With glucosinolate importers already described, the identification and characterization of exporters will contribute to the understanding of the full glucosinolate transporter complement.
Line's PhD supervisor is Head of DynaMo Professor Barbara Ann Halkier and co-supervisor Assistant Professor Deyang Xu.
Welcome Line!