27 October 2014
Congratulations Nadia!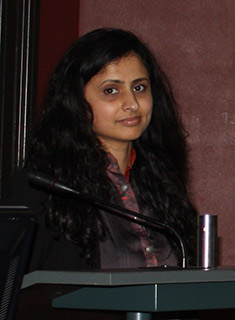 Today DynaMo PhD student Nadia M. A. Mirza was awarded the PhD degree for a thesis on metabolic engineering. Nadia's thesis is entitled Engineering and Optimization of the Chain Elongation Pathway of Glucosinolate Biosynthesis and is a multidisciplinary project including both pathway and protein engineering.
Nadia completed her thesis under the supervision of Head of DynaMo Professor Barbara Ann Halkier.
In front of family, friends and colleagues, Nadia gave a well-structured and entertaining oral presentation of her work. This was followed by a discussion with the three members of the assessment committee Jing-Ke Weng, Dept. of Biology, MIT, Michael Dalgaard Mikkelsen, Evolva Biotech A/S and Fernando Geu-Flores, University of Copenhagen. The committee unaimously reccommended that she is awarded the PhD degree.
Congratulations Nadia!