17 February 2020
Congratulations Zeinu!
PhD Defence
Monday 17 February DynaMo PhD scholar Zeinu Mussa Belew defended his PhD thesis and was awarded the PhD degree.
In front of colleagues and friends Zeinu Belew succesfully defended his PhD thesis.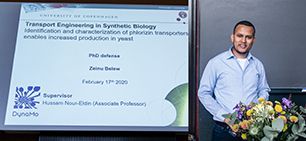 The thesis is entitled: Transport Engineering in Synthetic Biology; Identification and characterization of phlorizin transporters enables increased production in yeast. 
Plants produce a plethora of specialized small molecules (plant natural products) that have pharmaceutical and nutraceutical values. To overcome challenges in large scale microbial production, transport engineering has emerged as technology to facilitate final product secretion into the growth medium, thereby improving production and cost-efficient purification. However, the limited knowledge on transporters of plant natural products has hitherto hindered the application of transport engineering technologies.
In this thesis, using phlorizin, the anti-diabetic compound from apple, as a case study we provided a proof-of-concept for identification and application of a heterologous transporter for improving heterologous production of plant natural products in yeast. We functionally screened a total of ~600 full-length cDNA transporters library in Xenopus laevis oocytes and identified two Arabidopsis transporters capable of transporting phlorizin. Heterologous expression of one of these phlorizin transporters in phlorizin-producing yeast strain improved production titer by almost 90 %.
Zeinu holds a BSc in Agriculture – Horticulture from Jimma University, Ethiopia and MSc in Agriculture – Plant Sciences from University of Copenhagen in 2014.
In 2015, Zeinu joined DynaMo Center as a PhD student. His PhD supervisor was Associate Professor Hussam Nour-Eldin. Zeinu will continue as Postdoc at the DynaMo Center
 Congratulations Zeinu!