22 January 2016
Welcome to Cuiwei Wang, new PhD student at DynaMo Center
Welcome
Cuiwei Wang commenced as PhD students at DynaMo Center in early 2016 to work on a project within synthetic biology.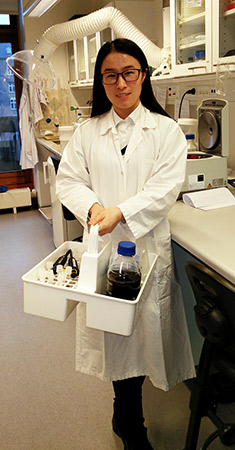 Originally from China, Cuiwei Wang joined DynaMo Center as a PhD student in early 2016.
Cuiwei holds a Master of Engineering in Biochemical Engineering from Shihezi University & Beijing Institute of Technology (dual degree) and a Bachelor of Engineering in Chemical Engineering and Technology, Shihezi University.
Upon MSc graduation, Cuiwei served as a research assistant at Beijing Institute of Technology in the Laboratory of Biotransformation and Microecology. There she undertook research on several projects within synthetic biology. She has written three publications, all about engineering biosynthetic pathways of value-added products.
At DynaMo Center, Cuiwei's PhD project is part of a larger project which aims at producing glucosinolates in a microbial host by genetic engineering. Cuiwei's part is to engineer the biosynthetic pathway for glucoraphanin into Saccharomyces cerevisiae (yeast).
Cuiwei's supervisor is Head of DynaMo Professor Barbara Ann Halkier and co-supervisor is Assistant Professor Christoph Crocoll, also from DynaMo.
Welcome Cuiwei!