19 January 2016
Konrad Weber - new PhD student with focus on RNA mediated regulation
Welcome
Konrad Weber commenced as a PhD student at DynaMo Center in January 2016 in order to undertake research on RNA mediated regulation of plant defense.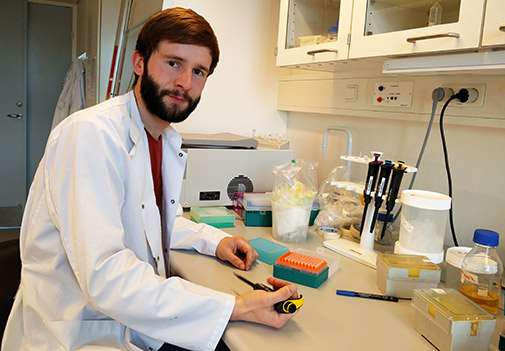 Konrad Weber holds a BSc in Biology and an MSc in Cellular and Molecular Biology of Plants from Eberhard Karls University, Tübingen, Germany.
Growth-defense crosstalk
Konrad's strong interest for nature and plants was present from very early on in his life. For that reason, he focused on plant science during his studies, firstly on classical botany, later his major focus became on the molecular processes of plant physiology and this led to a a master thesis about the function of a miRNA-processing pathway component in plant immunity.
In January 2016 Konrad moved to Copenhagen to take up a PhD position at DynaMo Center. At DynaMo Konrad will use the glucosinolate defense compounds in Arabidopsis as a superordinated model system to investigate plant defense response or, more precisely, the underlying RNA mediated regulation of the growth-defense crosstalk.
Fascinated by applied options
Konrad explains the motivation for his choise of PhD project,
"The identification of defense related proteins targeted by regulatory RNAs illuminates the process of posttranscriptional regulation as well as hopefully provides new applied options. Such new insights could be used in agriculture to breed stronger crops or create other opportunities in the biotechn industry or medicine."
Konrad's PhD supervisor is DynaMo Partner Associate Professor Meike Burow.
Welcome Konrad!