22 May 2018
Welcome to Jonathan Sonne Andersen - new research assistant at DynaMo
Jonathan started as research assistant at DynaMo May 2018 for a 6-months period, and he will work together with Head of DynaMo Center Professor Barbara Halkier and DynaMo member Assistant ProfessorDeyang Xu on Arabidopsis root exudation.
He holds a Master in Biology-Biotechnology from University of Copenhagen in 2017 and did his master thesis at Novo Nordisk, with the title: High-throughput methods for biophysical screening and generation of large monoclonal antibody libraries.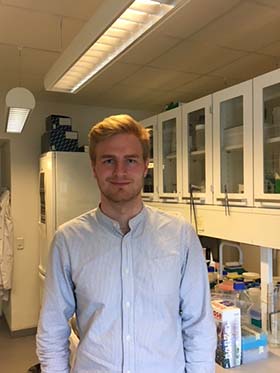 Jonathan has won several awards in entrepreneurship competitions and latest got the 2nd place at the McKinsey & Co competition on Pioneering Minds in 2017. As the co-founder of Tiberius Diagnostic's, he presented the scientific rationale for the company working on self-test diagnosis of Chlamydia infections.
Jonathan is already a known face at DynaMo, since he worked for three years as student helper and did his BSc in Hussam Nour Eldin's group.
Welcome Jonathan!