3 December 2018
Michal Poborsky - new PhD student at DynaMo
New position
Michal Poborsky commenced a PhD project on Synthetic Biology of Glucosinolates in the DynaMo Center on 15 November 2018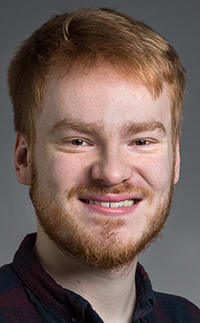 At the DynaMo Center, the aim of Michal's project is to study the production of different glucosinolates in bacteria and other heterologous microbial hosts. He will apply the tools of pathway and transport engineering to enable and optimize the synthesis of both aliphatic and aromatic glucosinolates. Metabolic bottlenecks, pathway hijacking and changes in gene activation will be identified through the integration of data from various omics analyses. His experience with protein engineering willl be used to design more efficient enzymes involved in the glucosinolate pathway.
Michal Poborsky is from the Czech Republic and holds MSc in Biotechnology and Chemical engineering from Aarhus University in 2018. In his Master project, Michal studied protein engineering of fatty acid hydratases with focus on site-directed mutagenesis for rational design and functional characterization of the hydratase enzymes. Michal did his Bachelor in Biochemistry and Biotechnology at University of Chemistry and Technology, Prague, Czech Republic.
After MSc graduation, Michal worked a few months as a research assistant at Aarhus University before moving to Copenhagen to start his PhD with Dynamo Center.
Michal's main supervisor is Head of DynaMo Center Professor Barbara Ann Halkier.
Welcome Michal!