17 May 2018
Welcome to Niels Christian Holm Sanden - New PhD student at DynaMo
Niels Christian started as PhD student at the DynaMo Center in May 2018 to work on a project within bioimaging and cell biology.
He holds a Master in Biology-Biotechnology from University of Copenhagen in 2016. In his Master project, he studied the plant peptide hormone receptor PSY1R using imaging techniques. Niels Christian did his Bachelor at the DynaMo Center with Hussam Nour-Eldin as supervisor in 2014.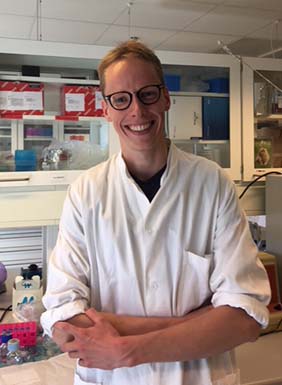 After graduation, Niels Christian has work for one and a half years in the group of Professor Atle Bones at the University of Trondheim, Norway, and attended the advanced summer course: 'Frontiers and Techniques in Plant Science', in Cold Spring Harbor Laboratories, New York.
At the DynaMo Center, the aim of Niels Christian's project is to study the role of plasmodesmata and phloem-specific membrane proteins in the transport of photoassimilates and other metabolites from the site of synthesis to that of consumption or storage. Moreover, the project will contribute to the study of the intracellular transport pathways of glucosinolates and their metabolic intermediates as well as the interactions of proteins involved in this transport process using bioimaging techniques.
Niels Christian's main supervisor is Alexander Schulz and his co-supervisor is Barbara Ann Halkier.
Welcome Niels Christian!