18 June 2020
Welcome to William Wajn - new PhD student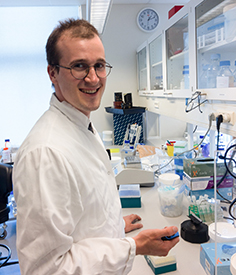 We have the pleasure to announce that William has been recruited as DynaMo's new PhD student in synthetic biology from 1 June 2020. 
The aim of William's PhD project is to investigate the biosynthesis of glucosinolates in S. cerevisiae. Through the project he will apply tools of pathway-, chassis- and transport-engineering to optimize the biosynthesis of glucosinolates.
William graduated as MSc in Biology-Biotechnology from the University of Copenhagen in 2020. In his MSc project, William focused on improving the biosynthesis of terpene compounds in yeast by utilizing compartmentalization and pathway engineering.
William's PhD supervisors are Professor Barbara Ann Halkier and Facility Manager Christoph Crocoll.
Welcome William!