11 June 2020
Meike Burow - Professor in Metabolic and Regulatory Networks
New Position
Plant scientist Meike Burow is co-founder and partner at DynaMo Center since the beginning in 2012, where she became Associate Professor and Head of the research group for Regulatory Networks and Interactomics.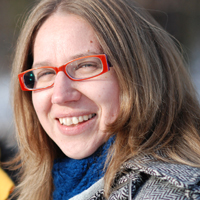 Meike has a strong track record in plant biochemistry, chemistry and transcriptional regulation
After Meike Burow completed her PhD in the field of chemical ecology at the Max Planck Institute for Chemical Ecology in Jena, Germany, she continued her work in the field of plant-insect interactions as a postdoc at the Technische Universität Braunschweig, Germany.
In 2008, she obtained a Marie Curies fellowship and DFF stipend to join Prof Barbara Ann Halkier's research group as postdoc. Since 2012, Meike has been partner in the DynaMo Center and her research focused on multi-level regulation of metabolic pathways in Arabidopsis thaliana.
In 2015, Meike was awarded with a grant from the Danish Council for Independent Research to study plant epigenetics and in 2016 she received the prestigious Villum Foundation's Young Investigator grant to investigate structure-function relations of disordered proteins.
Besides her research, Meike carries out multiple tasks at the section and department level. In January 2019, she took up the assignment as study leader for the BSc program in Biotechnology. With her supporting attitude she is highly appreciated by the students. In September 2019, she was appointed as Head of Section for Molecular Plant Biology. She has taken up this position with great responsibility and is a very respected and valued section head, who stands for high standard and quality.
As Professor, Meike Burow's research will investigate the regulatory networks and molecular mechanisms, which control the dynamics of plant metabolism during development and in response to environmental signals. Topics in this research area will be approached with a combination of molecular genetics, protein biochemistry, analytical chemistry and mathematical modeling.
Congratulations Meike!