15 June 2020
Prestigious Distinguished Investigator grant
Grant
Head of DynaMo Professor Barbara Ann Halkier receives Distinguished Investigator grant of 10 million DKK from Novo Nordisk Foundation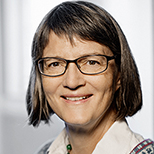 The grant is for outstanding professors who have demonstrated the ability to execute and lead research at the highest international level.  The grants funds excellent and ambitious biotechnology research projects aimed at generating products in improved and more sustainable ways.
The title of the project is: 'Exploiting beneficial microbes to biostimulate plant productivity and crop yield in sustainable food production' and will investigate how plants recruit and maintain beneficial microbes for plant growth promotion in order to apply this knowledge to improve crop productivity in sustainable food production.
Project description
Towards the goal to increase food production while sustainably managing natural resources there is an urgent need to find alternative solutions to present day crop production with heavy use of synthetic agrochemicals. Harnessing nature's beneficial microbes to sustain and improve crop productivity and yield is regarded a cornerstone of the next green revolution.
Our aim is to isolate beneficial microbes contributing plant growth promotion to plants from soils across Danish habitats. Using a model plant, we will gain mechanistic understanding of the role of exuded plant metabolites in recruiting and maintaining beneficial microbes. An innovative approach for pre-inoculation of seeds to sustain viability of beneficial microbes will be developed and translated to field trials on nutrient-poor soils.
Our research will contribute new knowledge and biotechnological tools for the application of beneficial microbes as bio-stimulants in a sustainable food production.
Barbara Ann Halkier explains: 
"Just as gut microbes are important for human health, microbes are also important for plant health. I believe harnessing plant microbiomes is a cornerstone of the next green revolution. In this project, I aim to decipher molecular mechanisms of root-microbe interactions from a plant perspective by decoding the chemical language communicated by the plants to recruit beneficial microbes".
The project will start on 1 February 2021 and has a duration of 5 years.