26 June 2017
Congratulations Daniel!
PhD defence
Today, DynaMo PhD scholar Daniel Vik successfully defended his PhD thesis.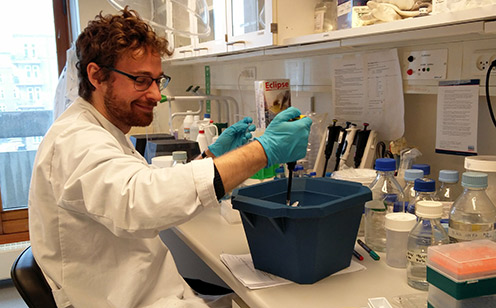 In front of a full auditorium Daniel Vik succesfully defended his PhD thesis. The aim of Daniel's PhD project is to shed light on the physical interactions of glucosinolate producing enzymes and his named his thesis: 'Quantitative aspects and dynamic modelling of glucosinolate metabolism'.
During his PhD project, Daniel has obtained skills to exploit 'omics' technologies to answer biological questions. This includes targeted proteomics to detect proteins, co-expression databases to identify new players surrounding a pathway, co-immuno-precipitation followed by untargeted proteomics to identify interaction protein-protein partners and dynamic modelling. And not the least, he constructed a mathematical model describing the degradation of glucosinolates, and how the degradation of one particular glucosinolate could influence plant growth and defense by manipulating a central growth hormone.
Daniel holds an BSc in Biochemistry from the University of Copenhagen. In January 2012, he joined DynaMo Center and after obtaining the MSc degree, he continued as a PhD student at the center. His PhD supervisors were Head of DynaMo Professor Barbara Ann Halkier and DynaMo Board member Associate Professor Meike Burow.
Congratulations Daniel!